Hennessey Performance introduces their newest super muscle car: THE EXORCIST. Based on the 2017 Chevrolet Camaro ZL1, the Hennessey team radically increased the Chevy's LT4 V8 engine's power to 1000 bhp @ 6,400 rpm and 966 lb-ft of torque @ 4,400 rpm. Power is increased via a series of engine modifications, including a larger, higher flowing supercharger & intercooler system producing 14 psi of boost pressure. This system is mated with ported factory cylinder heads, camshaft upgrade, long-tube stainless steel headers, high-flow air induction system and custom engine management calibration. THE EXORCIST is available for both 6-speed manual and 10-speed automatic equipped ZL1 Camaro's.
"Equipped with rear drag radial tires, The Exorcist will deliver 0-60 mph times under 3 seconds while running the ¼ mile in less than 10 seconds," said company founder and president, John Hennessey. "However, THE EXORCIST is not just a ¼ mile racer. It's a well-rounded super muscle car that is just as happy on a road course as it is on the dragstrip and street. Needless to say, this will leave the competition's heads spinning."
THE EXORCIST is available as a new turnkey vehicle from Hennessey and can also be ordered directly from Chevrolet dealers. ZL1 Camaro owners can also send their vehicles to HPE for the conversion. The base cost for THE EXORCIST upgrade, including the 1000 hp engine upgrade and graphics is $55,000 and includes a limited 2 year / 24,000 mile warranty. Automatic equipped vehicles will require an upgraded transmission at the cost of $9,950. The optional drag pack includes a pair of 20 inch wheels with 315/30-20 Nitto drag radial tires, drive shaft upgrade, floor jack and tool kit at the cost of $8,995. The optional road race pack includes a set of 20 inch light weight Hennessey wheels with Michelin Pilot Sport Cup 2 tires at the cost of $6,995.
THE EXORCIST also includes optional delivery at Hennessey's own ¼ mile dragstrip – Lonestar Motorsports Park – located next to the company's workshop which is located an hour west of Houston, Texas. Just 100 units of the THE EXORCIST will be produced per model year.
In the dyno video above, Hennessey measured the Exorcist as making 959 horsepower to the rear wheels. As Road & Track notes that's a lot of power—plenty more than the Dodge Demon, which needs 100-plus-octane race gas to achieve its max power output of 840 horsepower at the crank.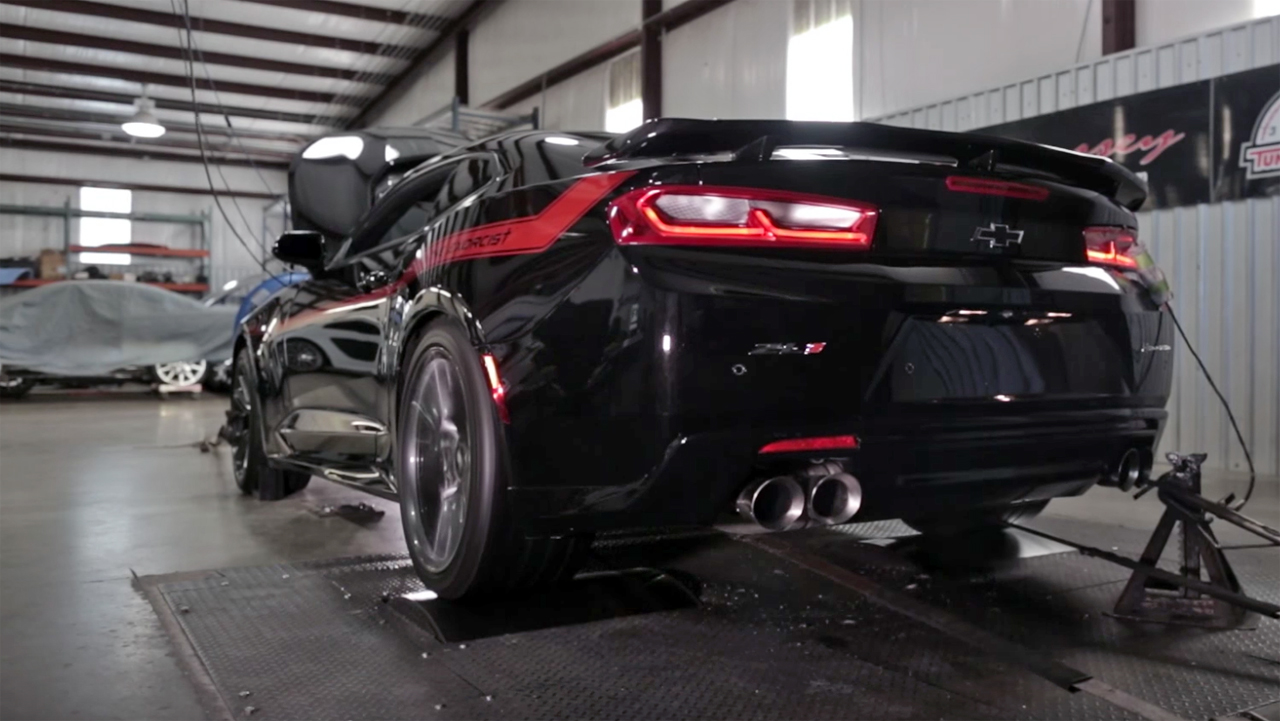 Comments
comments