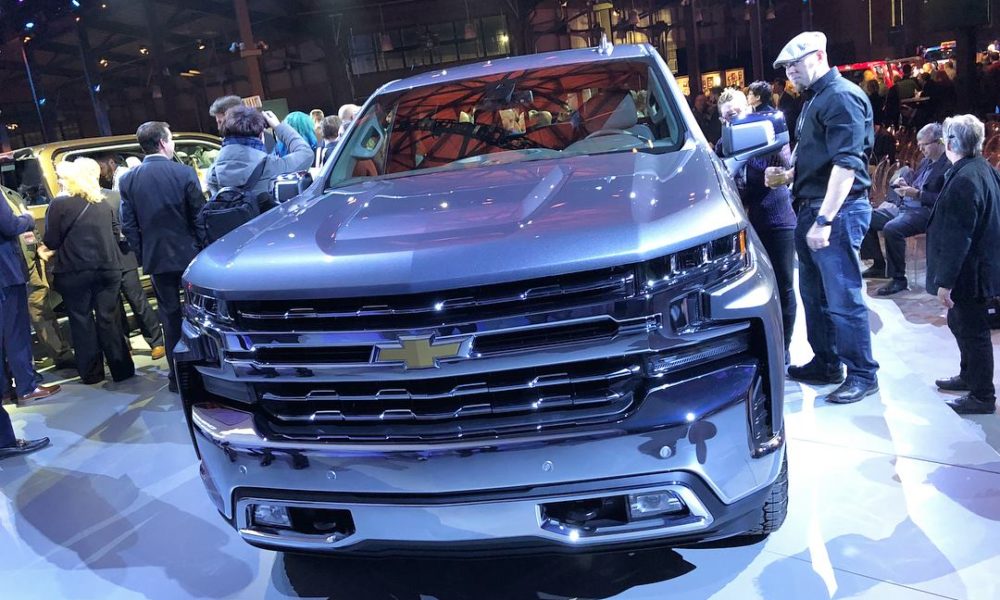 Chevrolet introduced the next-generation Silverado today, exactly 100 years after the brand delivered its first trucks to customers in January 1918. The all-new Silverado sets the course for the next century of Chevy Trucks with the most functional bed of any full-size truck, weighs up to 450 pounds less for increased performance and offers a broad range of trims and engine/transmission combinations to help each customer find their ideal truck.
"With the all-new Silverado, we've taken the best truck on the road and made it even better," said Mark Reuss, General Motors executive vice president of Global Product Development, Purchasing and Supply Chain. "It has a longer wheelbase, more passenger and cargo volume, and yet, thanks to our mixed materials strategy and mass reduction expertise, the new truck is 450 pounds lighter than the current model."
Larger, more functional and more capable bed
"Truck customers value capability and functionality above all else," said Tim Herrick, executive chief engineer of Full-Size Trucks. "Every truck — including the luxurious High Country — is a work truck with a job to do. As such, we set out to create the best tool for the job at hand, one that makes work more productive and more enjoyable, no matter what they call 'work.'''
The bed is the defining trait of every pickup, and bed construction has long been a strength of Chevy Trucks. To improve upon that strength, the 2019 Silverado 1500 bed features:
Best-in-class cargo volume: The 2019 Silverado offers the most cargo volume in every bed length, with the short-box offering 63 cubic feet of volume — up to 20 percent more than a competitor's short-box. Most of that volume was created by widening the maximum width of the bed floor nearly seven inches. Chevrolet Accessories will offer storage bins that fit over the wheel wells, offering nearly seven cubic feet of lockable cargo space for short-box models, while easily accommodating a 4 x 8 sheet of plywood flat on the cargo floor.
Higher-strength steel floor: As before, the Silverado has a roll-formed, high-strength steel bed floor. For 2019 a higher-grade steel is used, with yield strength increased from 340 to 500 megapascals of pressure for optimal strength and mass.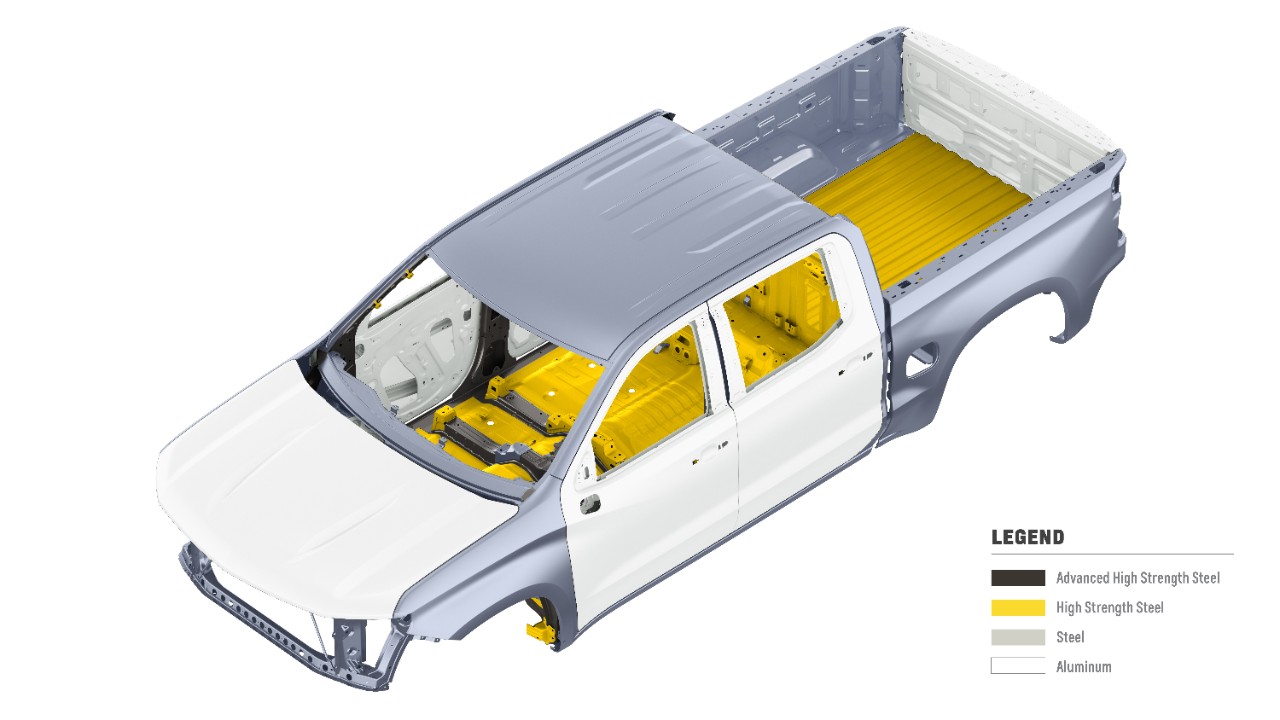 More and stronger tie-downs: Silverado now has 12 fixed tie-downs, and their strength has doubled to 500 pounds of force before bending. Silverado also has nine moveable tie points for even more cargo flexibility.
More features: Silverado will be available with a class-exclusive power up/down tailgate that can be operated from the key fob, interior button or by hand. Other changes include available task lighting, a 120-volt power outlet and larger cutouts in the class-exclusive CornerStep bumpers to better accommodate steel-toed boots.
With class-leading cargo volume and class-exclusive features, the new Silverado offers the most functional bed of any full-size truck, and more convenient hauling for cargo of virtually any size or shape.
Larger, lighter and more agile
The 2019 Silverado is larger than before, including a wheelbase that is up to 3.9 inches (100 mm) longer and an overall length that is 1.6 inches (41 mm) longer, enabling both more cargo volume and more interior room for all cab lengths. Remarkably, it's also lighter, weighing 450 pounds (204 kg) less than today's truck when comparing crew cab V-8 models.
The weight savings comes from extensive use of mixed materials and advanced manufacturing processes throughout the next-gen truck. This allowed Chevrolet to use the right material for the application and optimize every component for mass, durability, safety and functionality to meet our customers' needs.
For example, the body is 88 pounds (40 kg) lighter than before due to mixed materials use. All exterior swing panels (doors, hood and tailgate) are made of aluminum while fixed panels (fenders, roof and bed) are made of steel. The underlying safety cage uses seven different grades of steel, each tailored for the specific application.
The fully boxed steel frame is also 88 pounds (40 kg) lighter than its predecessor, while offering 10 percent greater torsional rigidity. Eighty percent of the frame is made of high-strength steel varying from 2 to 5 millimeters in thickness, and every millimeter is optimized for performance using a variety of processes, including hydroforming, roll forming, conventional stamping and tailor-rolled blanking. As a result, frame sections, gauges, grades, processes and materials strategically vary to maximize strength, durability and stiffness without adding unnecessary mass.
Mixed materials also play a part in the all-new suspension. The front independent short/long arm suspension features new forged-aluminum upper control arms that are lighter and provide better wheel alignment than the stamped component they replace. The live-axle rear suspension is also redesigned, including new carbon-composite second-stage springs on LT models that save about 12 pounds (5 kg) per side over the steel springs they replace.
The 2019 Silverado will be available with six engine/transmission combinations, giving customers more combinations of performance, efficiency and value to best fit their priorities. This includes new 5.3L and 6.2L V-8s with industry-first Dynamic Fuel Management that actively shuts off any number of cylinders, in a variety of combinations, depending on immediate needs to optimize fuel economy. The result of this industry-first technology is instant power when called for, and impressive efficiency.
The Silverado will also be available with an all-new Duramax 3.0L inline-six turbo-diesel. Chevrolet offers diesel engines in more segments and models than any other brand, including Equinox, Cruze, Colorado, Express, Silverado 1500, Silverado HD and upcoming Silverado medium-duty models.
Both the 3.0L diesel and 6.2L engines are paired with a new Hydra-Matic 10-speed automatic transmission as well as start/stop technology to improve fuel economy for optimum performance and efficiency.
No "one size fits most" trucks
"Truck customers told us they want the perfect truck for them and not a 'one size fits most' truck, compromised for the masses," said Mike Simcoe, vice president, Global Design, General Motors. "That insight shaped our design strategy with eight distinct models, each with a unique personality to fit different customers, from the affordable Work Truck to the luxurious High Country."
All models introduce a modern, powerful design with a strong dose of Chevy Truck DNA. For example, the "CHEVROLET" name stamped on the tailgate recalls iconic Chevy trucks of the 1950s and '60s, while the integrated dual exhausts and up to 33-inch tires reflect modern customer preferences.
The Silverado's bold, modern design is also surprisingly aerodynamic. Key elements of the front grille are front functional air curtains, similar to those introduced on the sixth-generation Camaro, that reduce aerodynamic drag by routing air around the front wheel wells. The powerful side profile further enhances aerodynamics, including an integrated spoiler at the rear edge of the cab that directs air onto the tailgate lip, reducing wind drag from the bed. Changes like these result in a 7 percent increase in aerodynamic efficiency.
The 2019 Silverado offers eight trims (see descriptions, next page), designed for three distinct buyer profiles:
"High Value" customers want the capability of a full-size truck at a great value.
"High Volume" customers represent the heart of the truck market, requiring the capability of a full-size truck as well as the creature comforts of a passenger vehicle.
"High Feature" customers represent the fastest-growing part of the truck market and want luxury-car refinement and appointments without sacrificing capability or durability.
The eight trims also reflect another key differentiator for truck buyers: chrome.
"Chrome has become more polarizing, and more personal, than any other aspect of truck design," said Rich Scheer, director, Exterior Design, Chevrolet Trucks. "Some customers want no chrome at all and only body-color or blacked-out trim. Others feel a truck isn't a truck without a chrome bumper, but feel extra chrome can be too 'flashy.' Others want as much chrome as they can get."
Accordingly, the eight trims are tailored to give customers a wide range of features and levels of chrome, enabling customers to choose the best truck for their personal preferences.
More functional and more connected interiors
The interior design was also strongly influenced by customer feedback. Because truck owners use their vehicles for both hauling cargo and transporting people, customers' top priorities were more comfortable seating, more interior cargo storage and more functional, easy-to-use controls.
Accordingly, the cab has been stretched, with crew-cab models now offering 3 inches of additional rear-seat legroom for an impressive 44.5 inches of front legroom and 43.8 inches of rear legroom.
New available storage options include two 10-liter bins integrated in the second-row seatbacks for holding small items like gloves or tie-down straps, as well as a large 24-liter storage tray under the second-row seat that can secure everything from gallons of milk to fishing rods and tackle boxes.
Every surface has been designed for function and ergonomics, from the rotary knob textures to the infotainment screen angle. Even the luxurious High Country is subjected to stringent durability tests, including 100,000 seat-slide tests to make sure the supple seats meet the expectations of our toughest owners.
The Silverado was already the first pickup to offer 4G LTE Wi-Fi connectivity, Apple Car Play, Android Auto, wireless phone charging and OnStar safety and security features. For 2019, that leadership will be improved with new safety and convenience features to be announced later this year.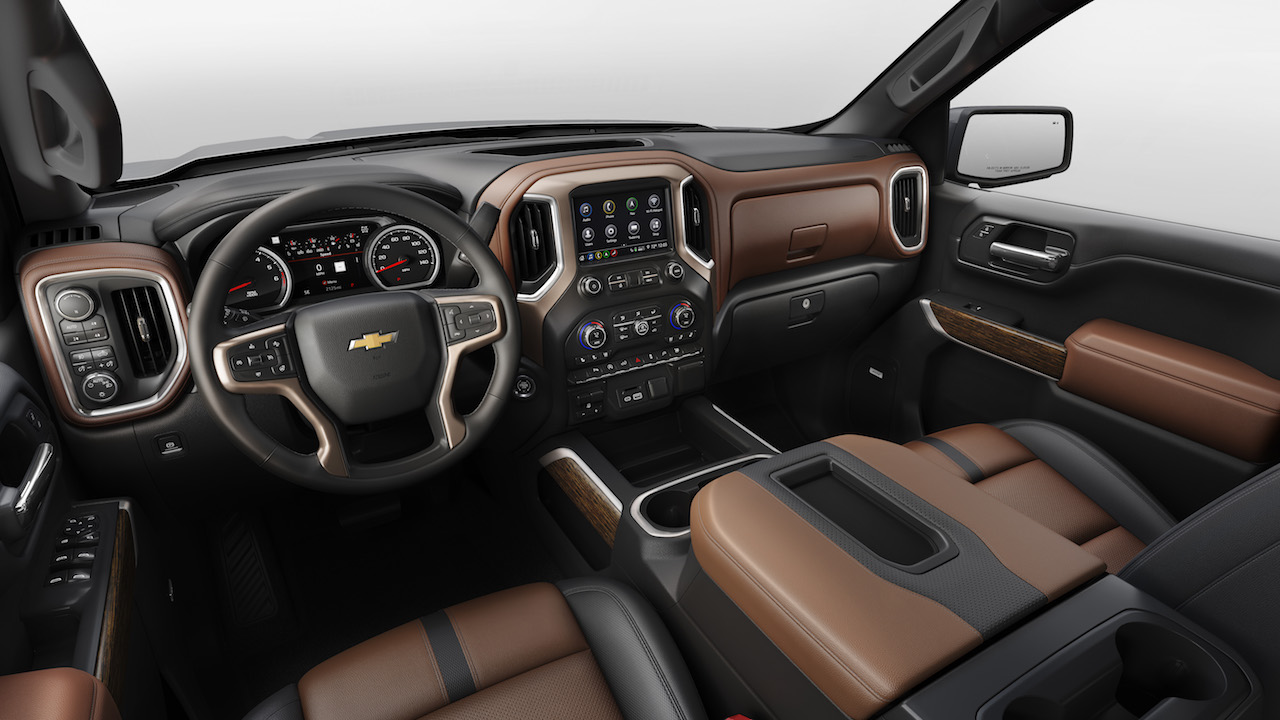 Making the Most Dependable, Longest Lasting full-size trucks even more so
"Truck customers told us they depend on their trucks for much more than just transportation," said Herrick. "Many use their trucks to earn a paycheck, or to do what they enjoy most when they're off the clock. Given how important trucks are to our customers, we set a lofty goal for exceeding the dependability and longevity of the current Silverado."
To do so, the engineering team doubled many of the key validation metrics for the next-gen truck, making it the most-tested vehicle GM has ever produced. That includes accumulating a staggering seven million miles of real-world testing before the first Silverado is delivered to customers.
The 2019 Chevrolet Silverado will be on display at the North American International Auto Show through Jan. 28 in Detroit. Production of the 2019 Silverado will begin at the Fort Wayne, Indiana Assembly plant, ranked the highest-quality plant in North America by J.D. Power and Associates, with customer deliveries beginning this fall.
2019 Silverado 1500 Trim Levels
High Value:
Work Truck features "CHEVROLET" graphic across the grille and tailgate, blacked-out trim and 17-inch steel wheels for maximum durability. The interior features durable vinyl or cloth seats and 7-inch color touch screen.
Custom features a body-color styling theme, 20-inch painted aluminum wheels, LED signature taillamps and available integrated dual exhaust.
Custom Trailboss (new for 2019) adds off-road equipment to the Custom, including a 2-inch suspension lift and the Z71 Off Road Package with a locking rear differential, skid plates, Rancho shocks, 18-inch wheels and Goodyear Duratrac off-road tires.
High Volume:
LT features chrome accents on the bumpers, front grille and mirror caps, Chevrolet bowtie in the grille, LED reflector headlamps and signature daytime running lights. The interior features an 8-inch color touch screen and available leather seating surfaces
RST (new for 2019) brings a street-performance appearance to the LT, with body-color trim, full LED lighting (foglamps, headlamps and taillamps) and up to 22-inch wheels with all-season tires.
LT Trailboss (new for 2019) adds off-road equipment to the LT, including a 2-inch suspension lift and the Z71 Off Road Package, including locking rear differential, skid plates, Rancho shocks, 18-inch wheels and Goodyear Duratrac off-road tires.
High Feature:
LTZ features chrome accents on the bumpers, front grille, mirror caps, door handles and hockey-stick beltline as well as power folding and heated outside rearview mirrors. Leather interior trim is standard equipment.
High Country features an exclusive front grille design with two-tone chrome and bronze finish, body-color accents plus chrome assist steps from wheel to wheel. It also includes the power up/down tailgate as standard equipment.
Source: Chevrolet / Show Photos: Truck Trend on Facebook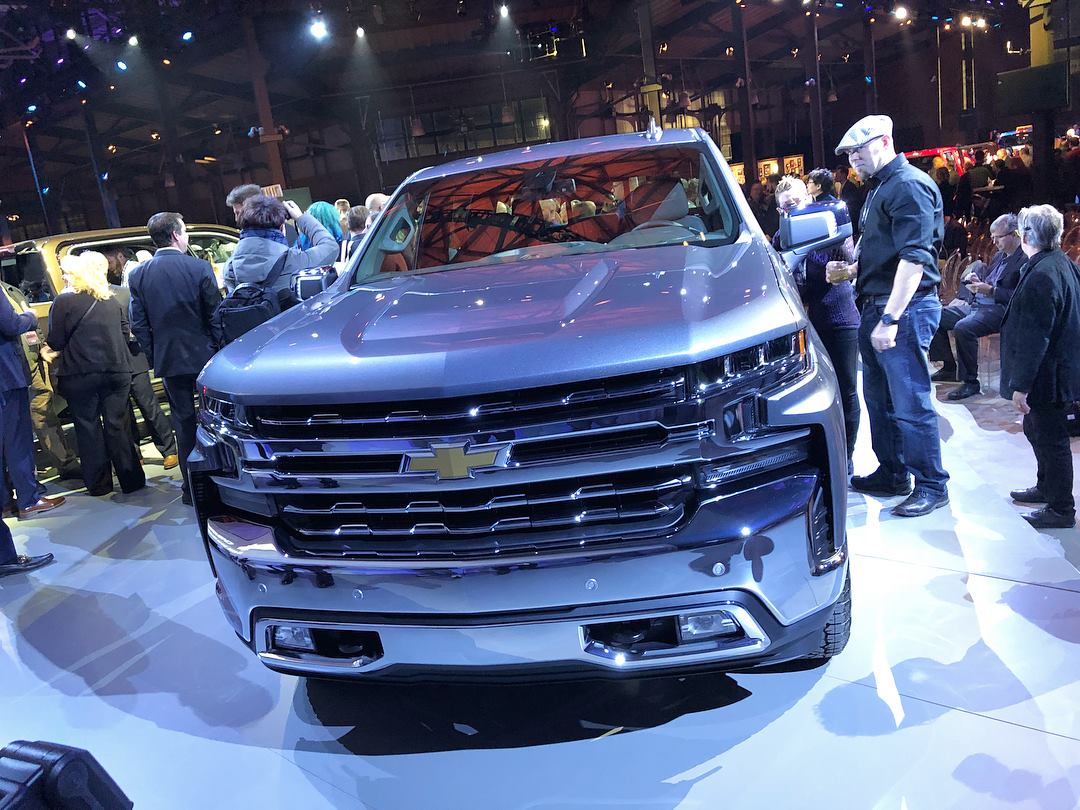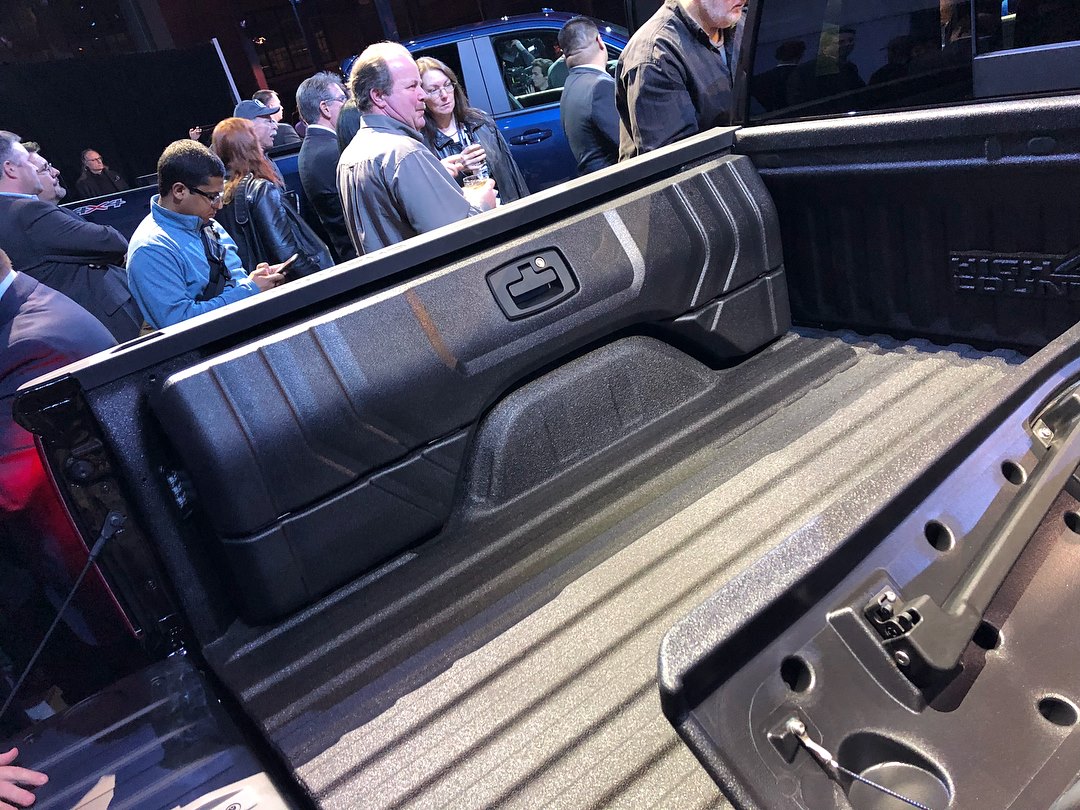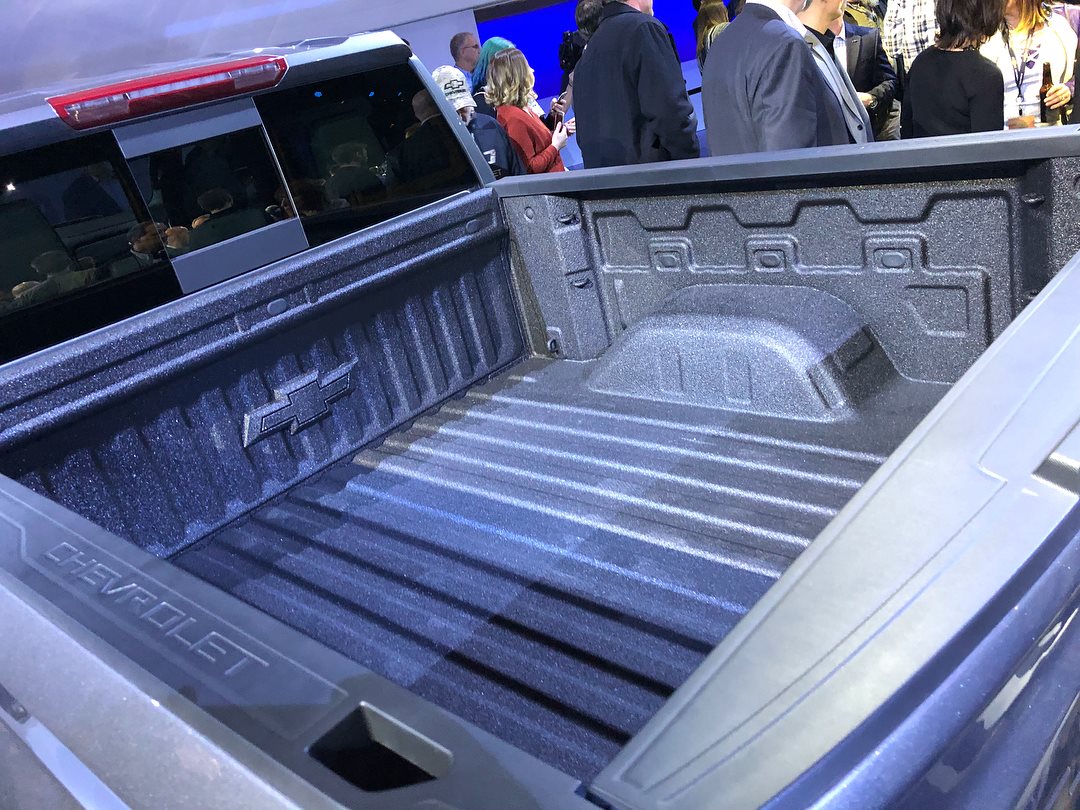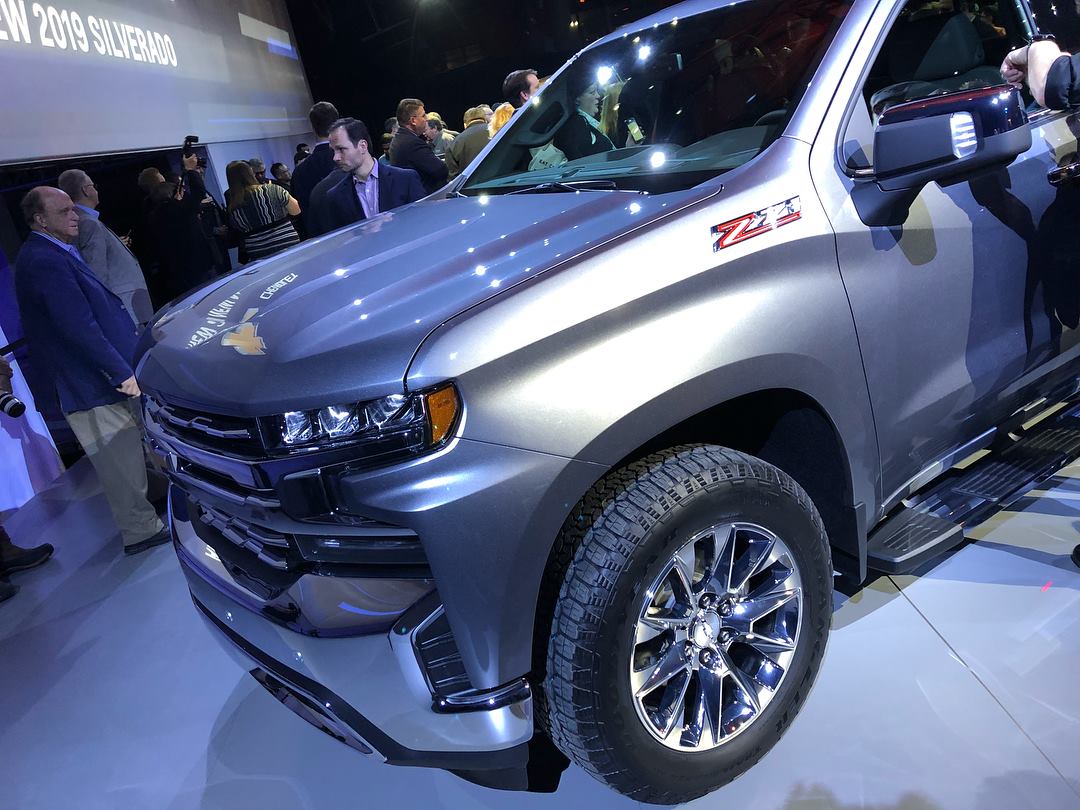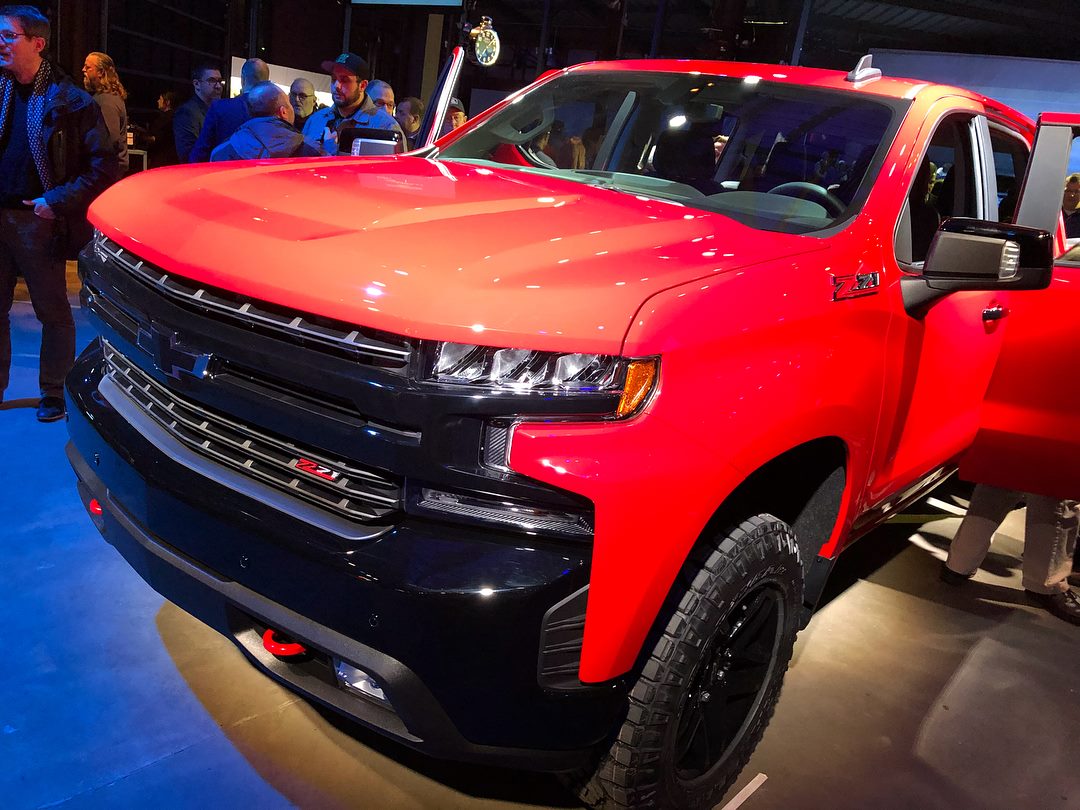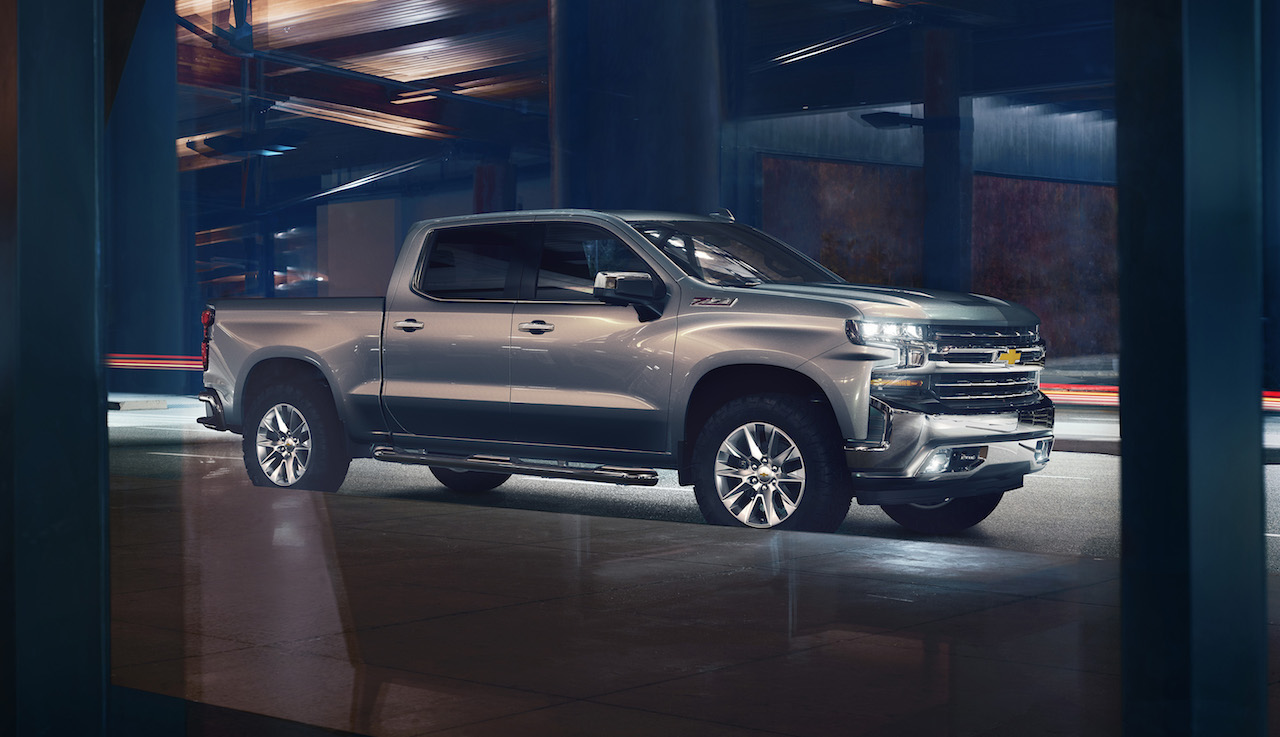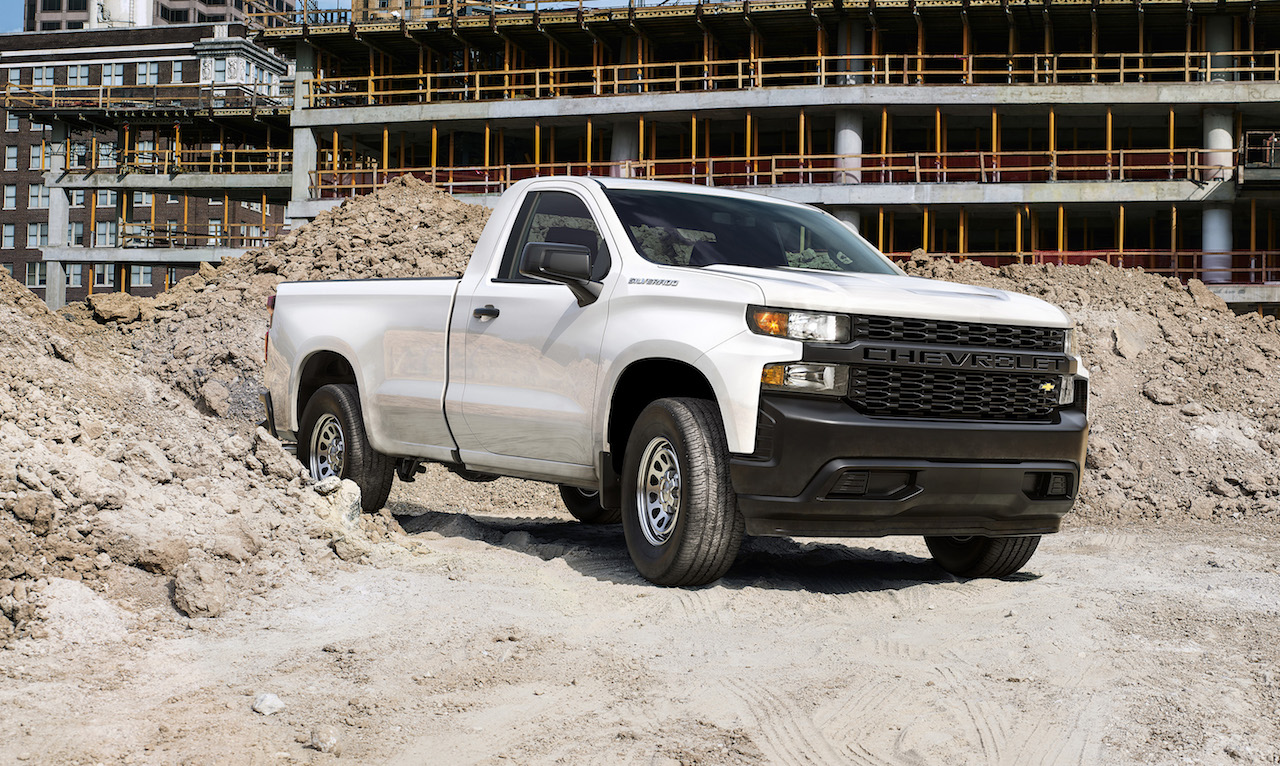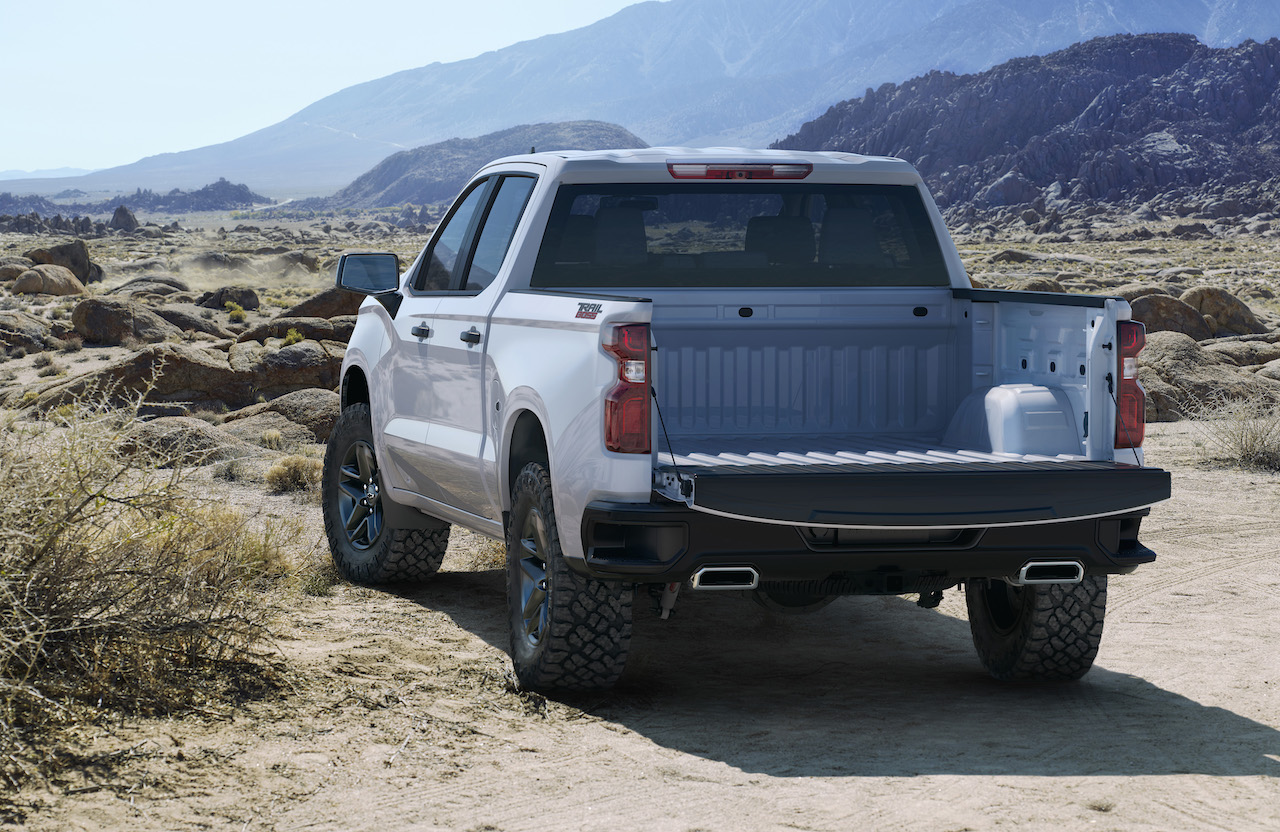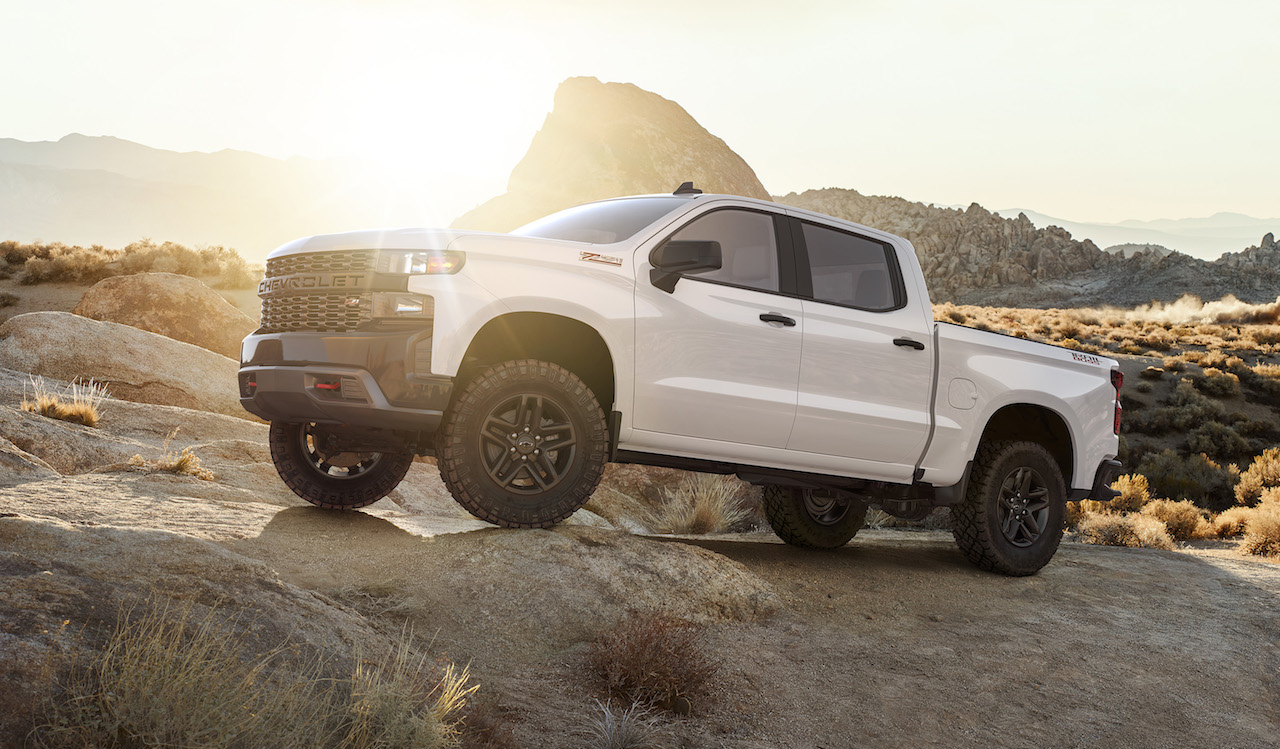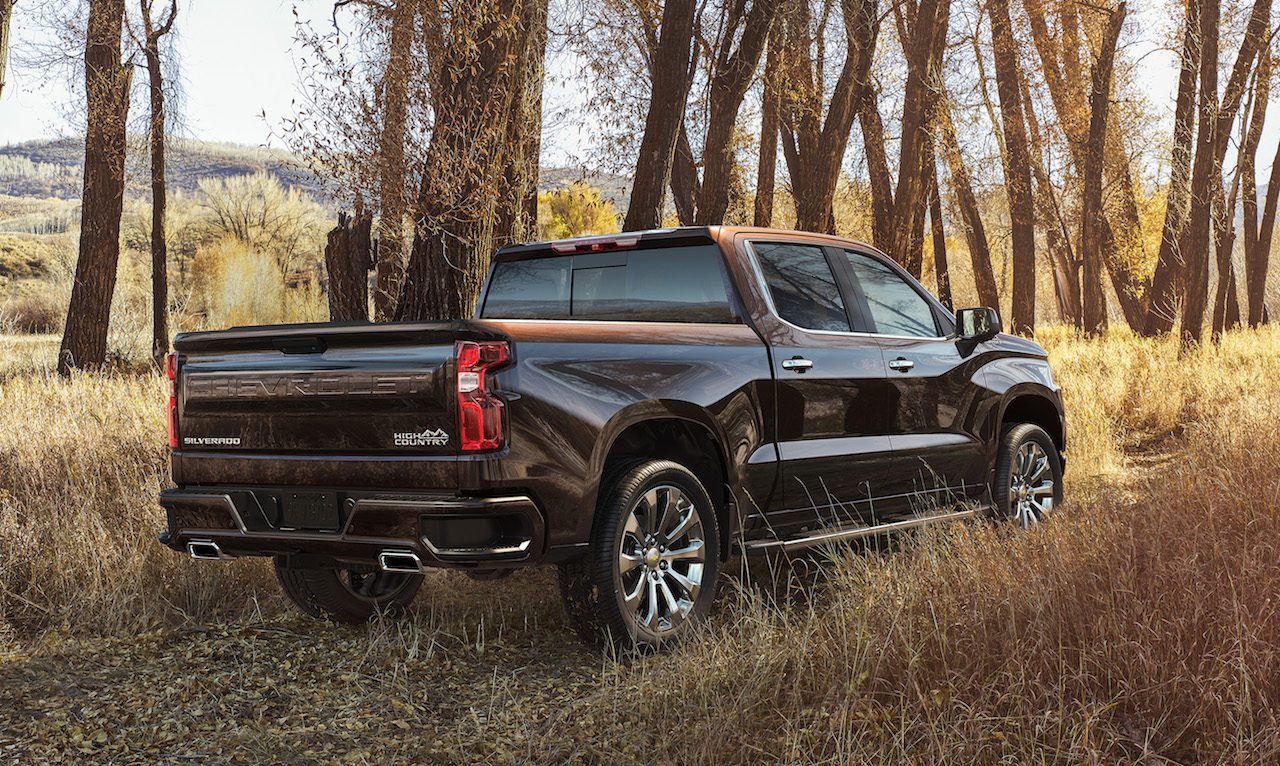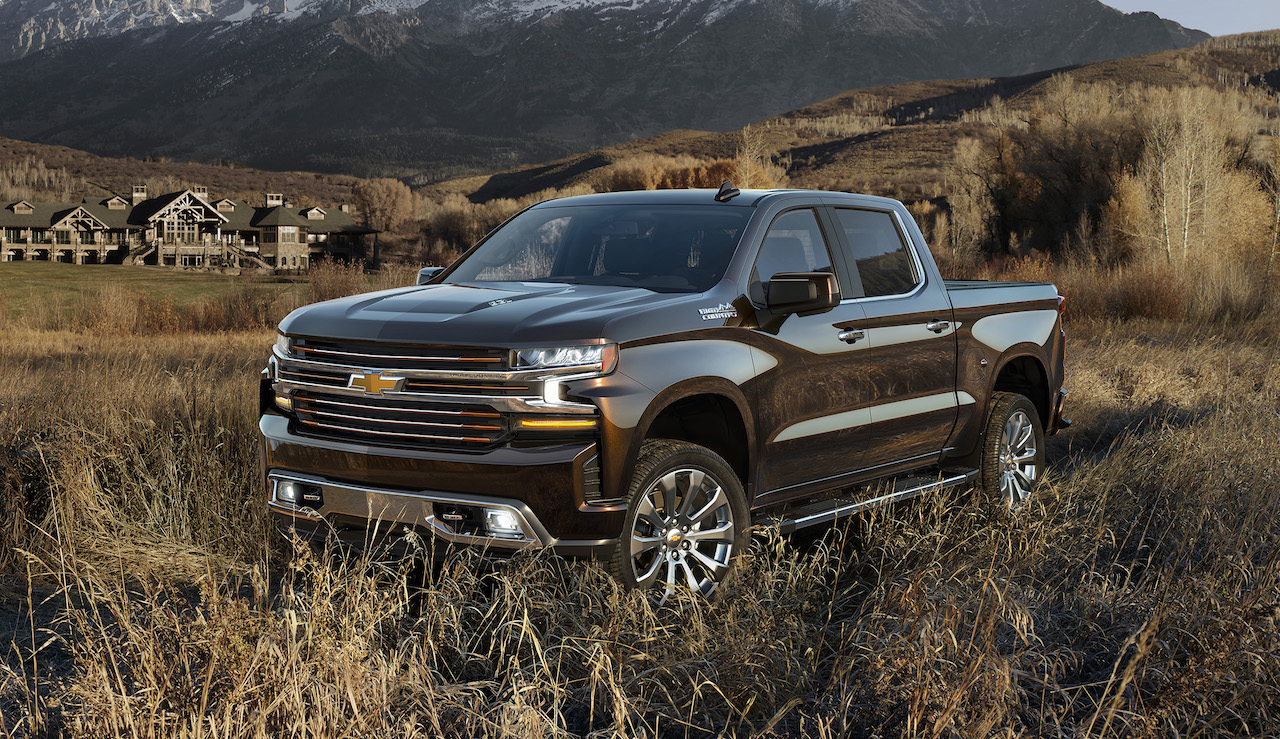 Comments
comments